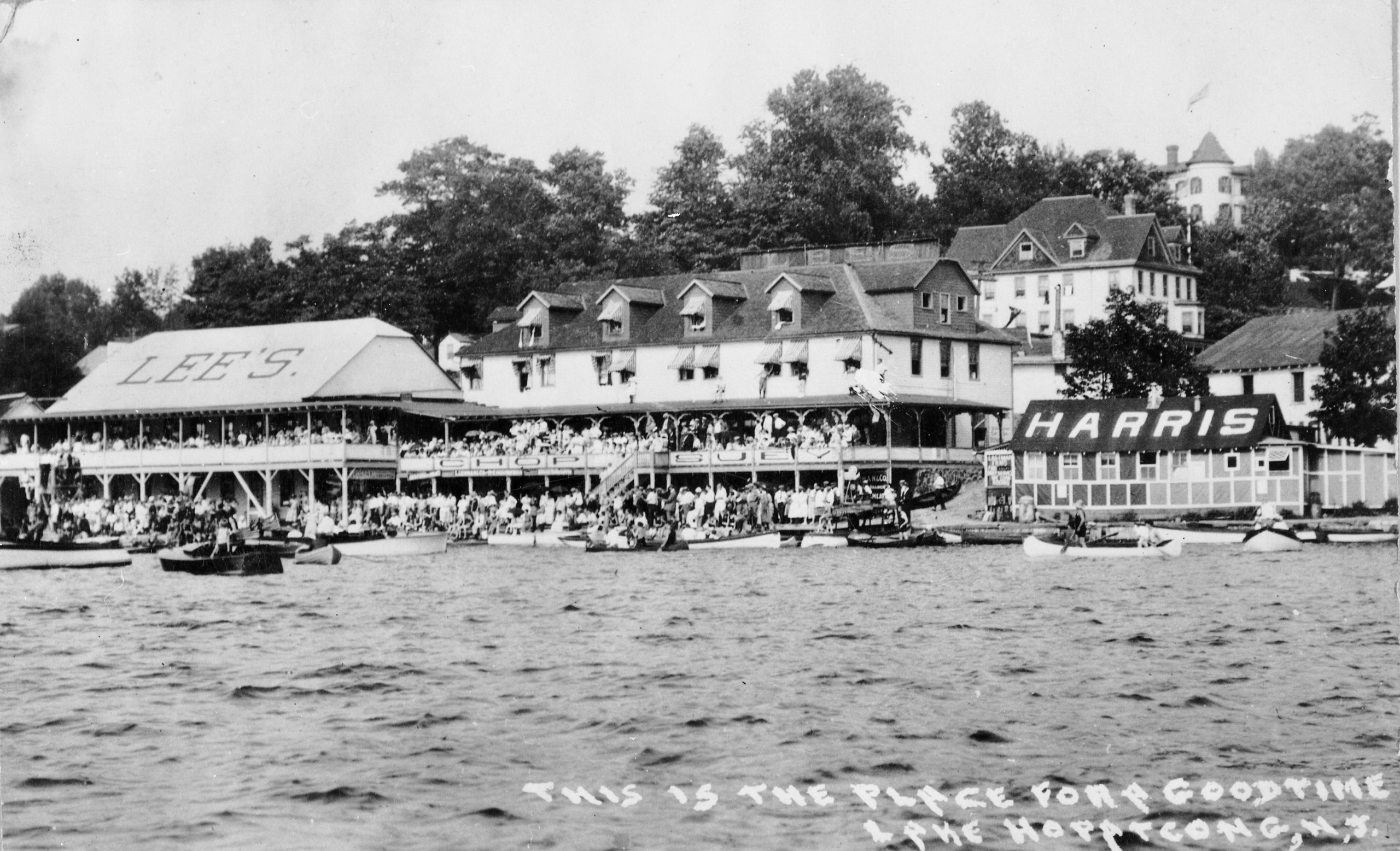 On September 6, 1882, the Central Railroad of New Jersey ran the first passenger train to Lake Hopatcong.  For the 1883 season the Central Railroad commenced regular passenger service to its station at Nolan's Point, and the tourist boom at Lake Hopatcong had begun.  Visitors arriving on the new "excursion" trains found a large and scenic body of water in the New Jersey hills with a shoreline that was almost entirely undeveloped.  The management of the Central Railroad quickly recognized that arriving passengers needed activities to keep their interest and amuse themselves during their visit.  This led the railroad to lease land at Nolan's Point for the construction of an entertainment pavilion.  The Lake Pavilion, built by the Allen family, opened in 1887 and would be commonly know as Allen's Pavilion for much of its existence.  It was located in the area where the Windlass Restaurant and miniature golf course stand today.  In addition to an orchestra playing every afternoon and evening, the pavilion offered an ice cream soda fountain, confectionery, souvenirs, photograph studio and amusements such as a shooting range and carousel.  As the center of early lake life, Allen's was also the locale for early regattas and annual events such as the annual Orchestra Ball and the Lake Hopatcong Steamboat Men's Ball.
The Central Railroad's one-day excursions created much interest in Lake Hopatcong.  Investment and development soon followed.  Prior to the railroad connecting to Nolan's Point, only four small hotels existed at the lake.  By the early 1900s, some 40 hotels and rooming houses were operating on its shores.  The scores of tourists pouring into Nolan's Point by rail soon prompted John Lee to build a second large pavilion.  Lee, a popular photographer from Philipsburg, New Jersey, first came to Nolan's Point around 1887 and established a studio at Allen's Pavilion.  After 15 successful seasons he wanted to expand his operation for the 1903 season.  Acquiring land a bit further south on Nolan's Point, he established "Lee and Company on Lee's Point."  Lee continued to offer full photography services and added groceries, souvenirs, a confectionery, soda fountain, and boats for hire. 
Lee's venture proved successful and in 1905 he undertook a major addition, including a wide porch along the entire lakefront.  Lee's Pavilion contained a hotel with 20 rooms, a department store carrying all types of goods, and a new photo studio under the direction of fellow photographer W.J. Harris.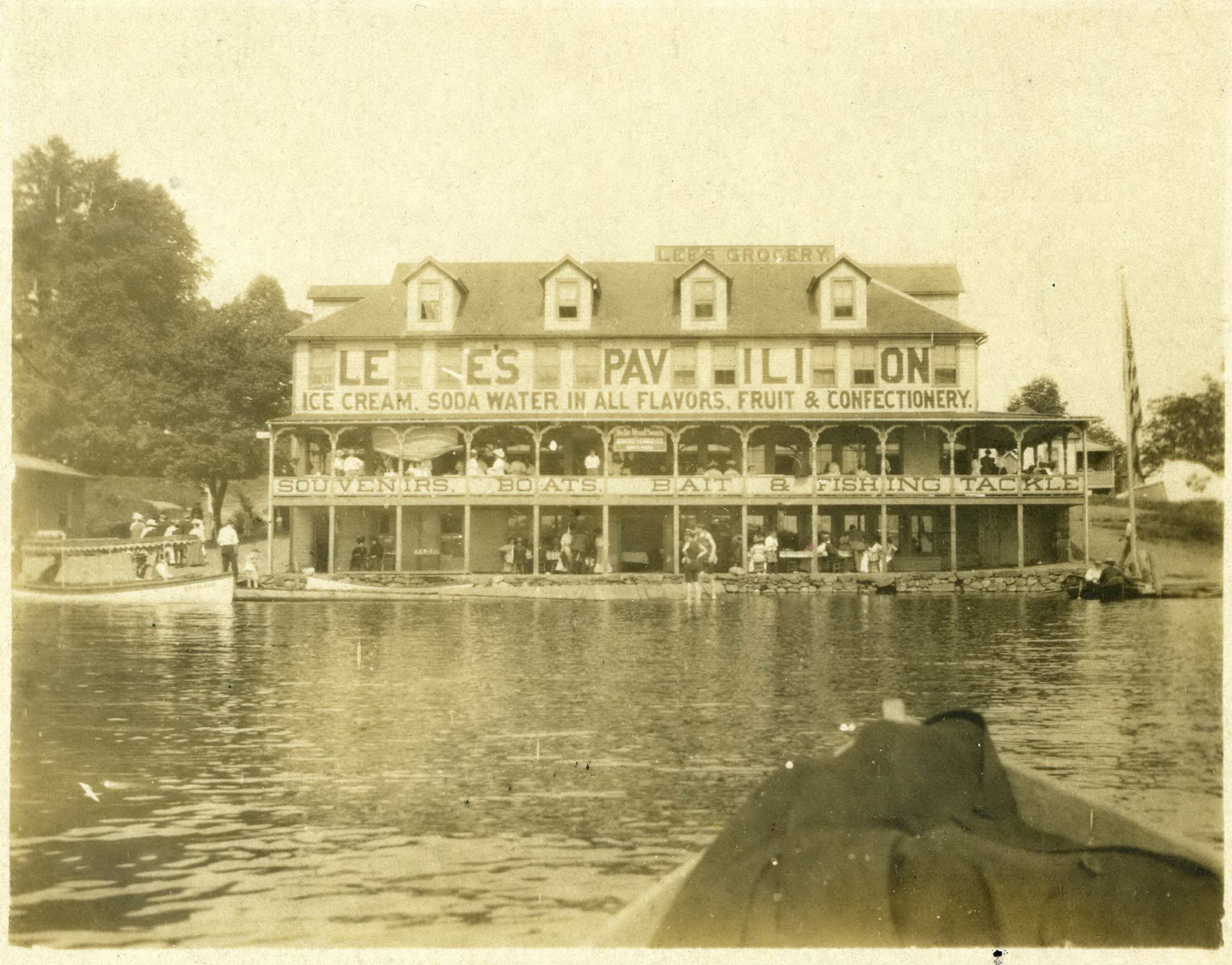 Lee's would continue to grow and expand, adding a barber shop in 1906, a butcher shop in 1907, a bakery in 1908, pool and billiards in 1909, and "moving pictures" in 1910.  In 1920, William S. Hawley of Paterson, the Chief Inspector for Motor Boats on the lake (in charge of licensing, boat registrations, and enforcement of boating regulations), opened the lake's first Chinese-American restaurant at Lee's Pavilion.  Known as The Oriental, it featured Chop Suey as well as chicken and waffles.
In the fall of 1922 while waiting on a customer at the store, John Lee suffered a fatal heart attack and an era at Lake Hopatcong ended.  After operating the pavilion the following season, Lee's son Andrew decided to sell in the fall of 1923 to a group of businessmen from Paterson. The selling price was over $100,000, a very large sum in the 1920s.  The new group immediately initiated numerous improvements for the 1924 season.  The Idle Hour Movie Theatre was closed and the space converted to additional hotel rooms.  On Decoration Day (now Memorial Day), the pavilion reopened featuring a hotel, department store, Hawley's Restaurant, the Harris Photo Studio, Lehman's Food Store, Bake-rite Bakery, Hillman's Barber Shop, Johnson's Taxi Service, Lee's General Store, Lee's Gift Shop, a seven-piece orchestra with dancing, and that new technology – public telephones.
Tragedy soon struck on the night October 27, 1924 when Lee's Pavilion was completely destroyed in a spectacular fire that consumed 13 buildings on Nolan's Point.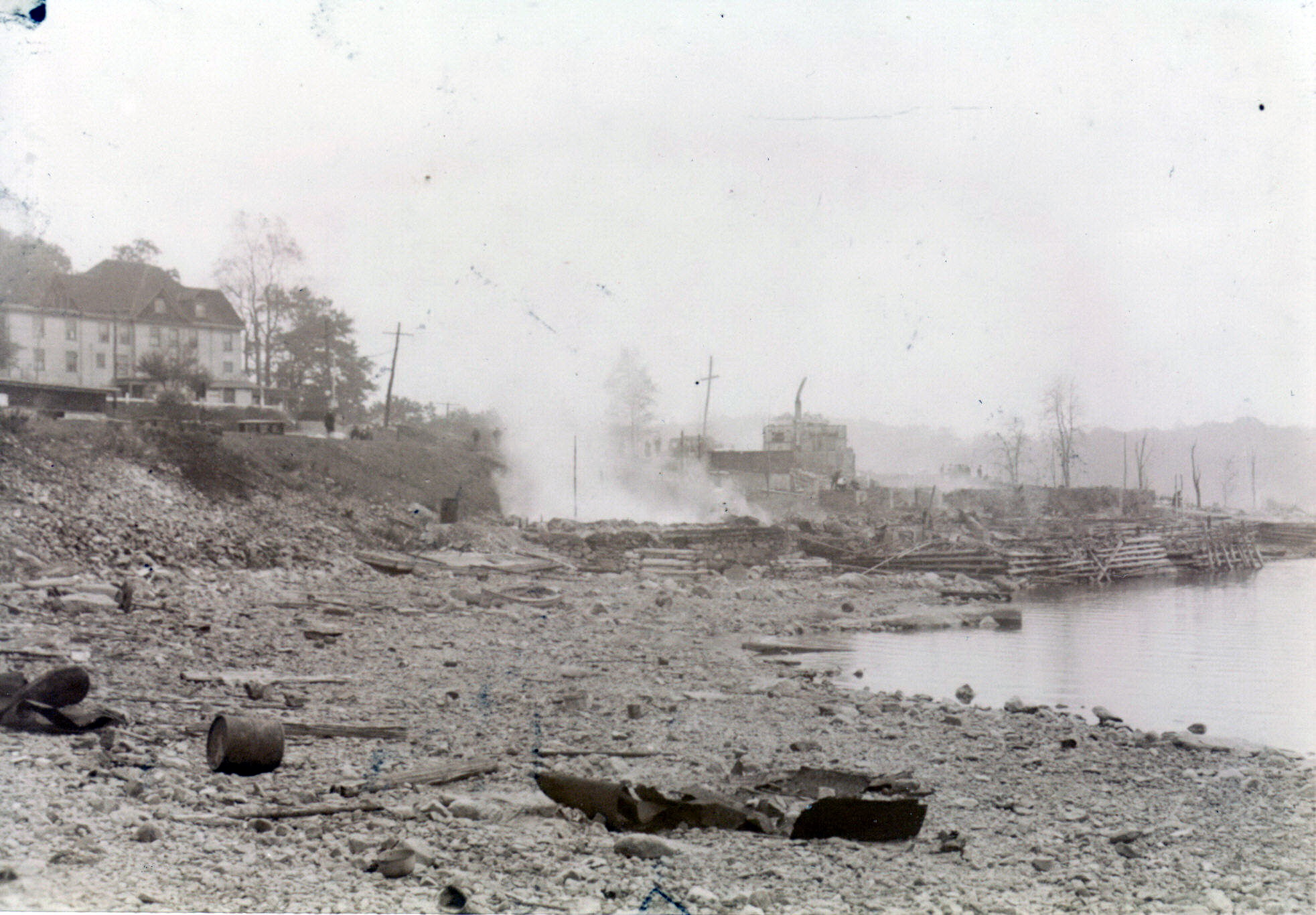 Following the fire, several merchants rebuilt their stores separately at Nolan's Point.  Louis and Aiello built a vegetable and meat market.  Jack Lake constructed an ice cream parlor and restaurant on land owned by the Sunnyside Hotel.  Lake's building included a boathouse with a store run by Peter Dow, which sold boats, canoes, bait, and fishing tackle.  It was not until 1927 that Lee's Pavilion itself was rebuilt.  Opening with the new name of Lee's Dancing Pavilion, the inaugural season featured Frank Dailey and his Meadowbrook Orchestra.  Just a few years later, Dailey purchased his own establishment in Cedar Grove and, thanks to the power of radio, he and the band became nationally known.
The 1929 season saw Lee's Pavilion sold and reopened as Kay's Hotel.  It featured a restaurant as well as dancing and entertainment every night.  Operating throughout the Depression, Kay's used the slogan "Where Good Fellows Get Together" and promised "never a dull moment."  Kay's ran events such as bathing beauty contests, amateur nights, boxing exhibitions, celebrity nights and dance contests to bring customers out in difficult economic times.  The hotel also advertised newly decorated rooms – each with running water!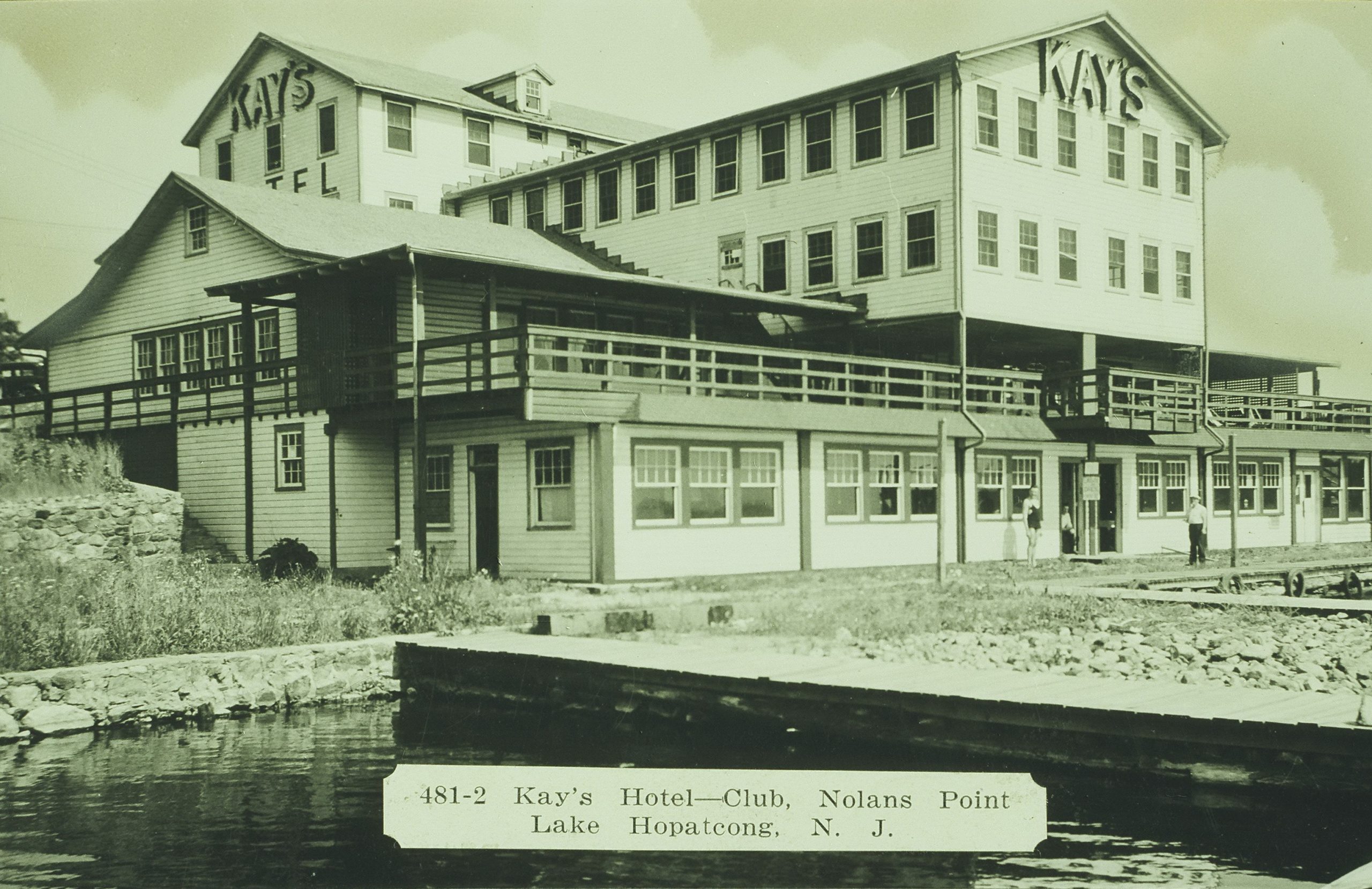 Kay's was sold again in 1938 and became the Colony Club, a restricted Christian club under a membership plan.  In these Depression years, the club immediately ran into financial difficulties.  By August it was advertising 21 rooms at $1.00 per night.  It did not reopen for the 1939 season.  That year the hotel was bought by Frank Decker, considered at the time to be one of the world's foremost mediums.  Decker renamed the business the White Eagle Spiritualist Camp.  In addition to offering swimming, fishing, boating and dancing, Decker and his staff explored spiritualism and conducted séances every night.  The camp operated for two seasons and in 1941 the business was sold and renamed the Jefferson House.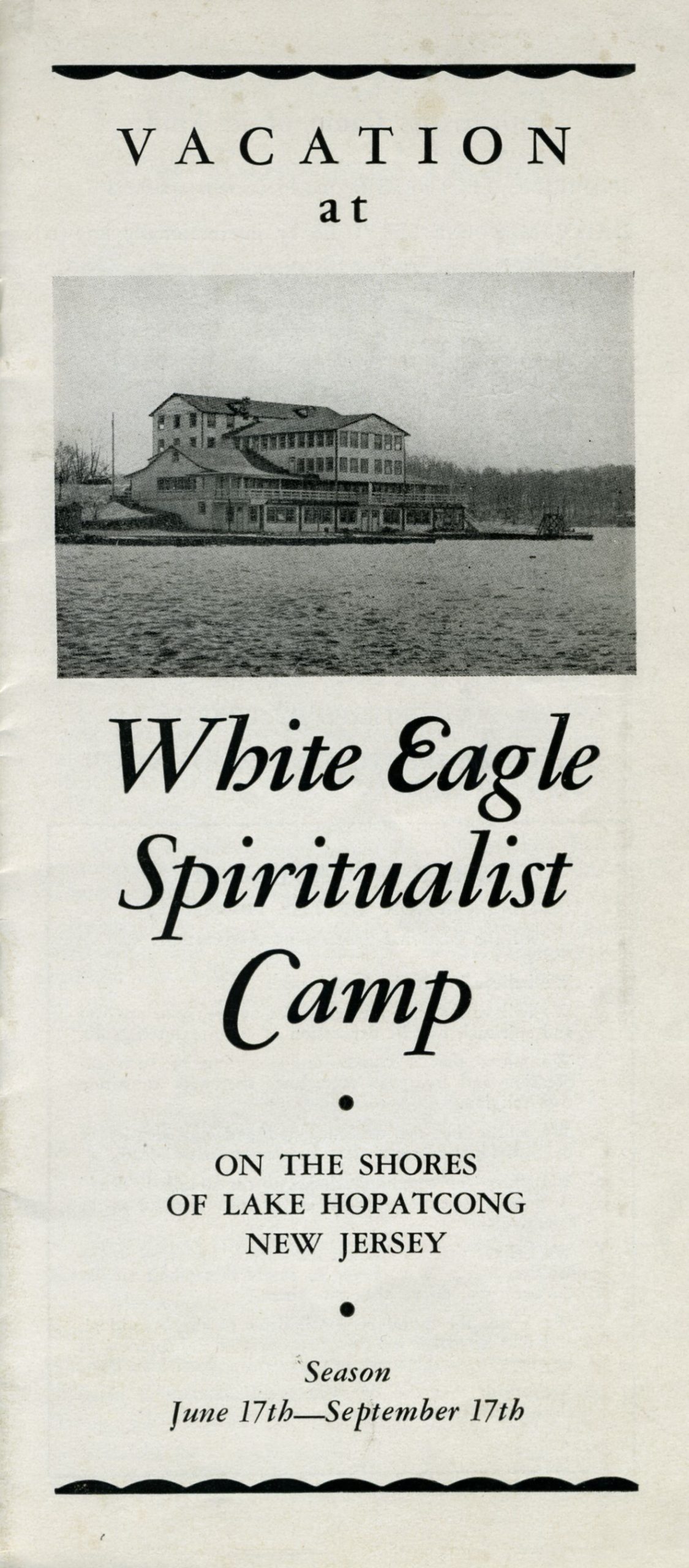 When the Jefferson House opened as a hotel it was billed as one of the lake's finest dining and dance spots, and maintained "a restricted policy" of Christian clientele which was dropped after World War II.  The Jefferson House went through several owners before Joseph Langley bought the hotel in the early 1950s and operated it for some ten years, then sold to Herb Spencer in 1962.  Spencer renamed the business "Jefferson House Boatel," and ran it as a hotel and marina.  For the 1964 season, he introduced Broadway musicals, featuring such hits as Anything Goes and No No Nanette.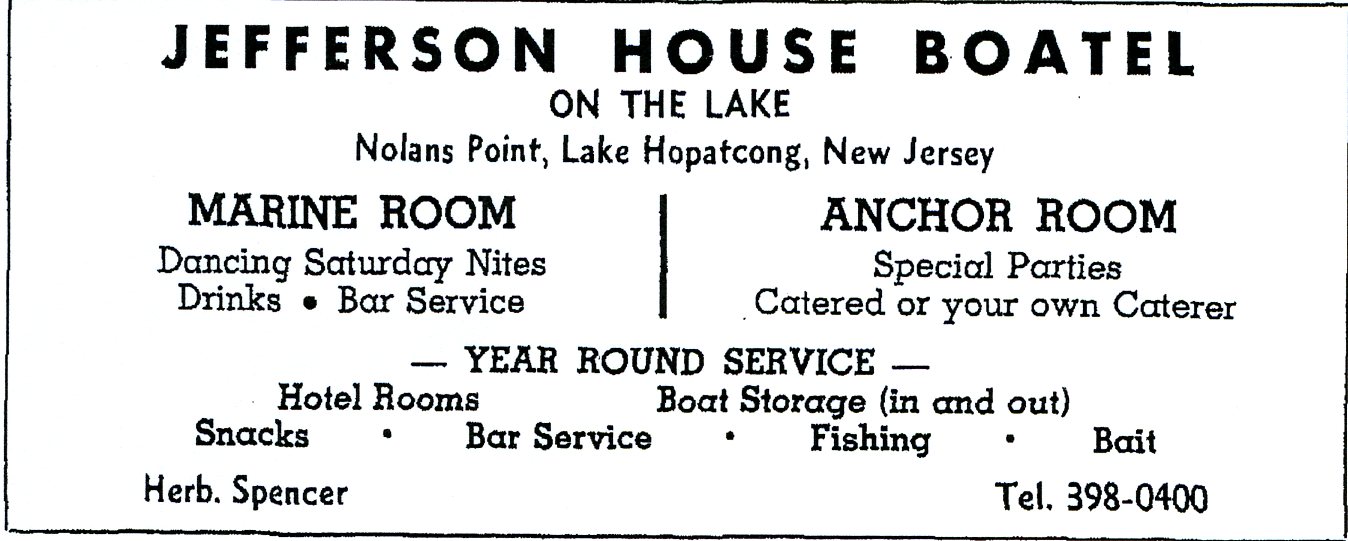 Herb Spencer sold to Herman Orth in September 1967.  Orth owned a local garage and ran the sightseeing boats at Bertrand Island and Hopatcong State Park.  He intended to use the hotel as a marina for his boats, but died just nine months after purchasing the business. His two sons, Bill and Allan, took the Jefferson House in a new direction.  Together with their mother, Ida, the Orth boys would transform the Jefferson House in the years which followed, greatly modernizing the facility and establishing it as the largest venue at Lake Hopatcong.  Trying out a few different names and themes along the way (some readers may remember the "Club New Orleans" and the "Pirate's Den") the Orths and the Jefferson House have been a mainstay at the lake ever since.  The view from their docks and ballroom is one of the finest at Lake Hopatcong.  The tiki bar with live music all summer is hugely popular.  Now owned by the Orth family for over 50 years, they continue a long tradition of fun and entertainment at Nolan's Point.