Born in Evansville, Indiana, in 1890, Joe Cook was an unlikely choice to become one of Lake Hopatcong's most famous residents.  From humble beginnings, Cook rose to the highest echelon of vaudeville, headlining at New York's famed Palace Theatre.  He triumphed on Broadway and then broke into radio.  A household name in the 1920s and 1930s, Cook was one of America's most popular entertainers.
Joe Cook's physical talents were remarkable.  He could juggle, walk a tightrope, ride a unicycle, mime, and perform many other circus skills with ease.  With this he combined an uncanny ability to tell nonsensical stories that made audiences roar with laughter.  Added to this was his penchant for creating ridiculously complex inventions to perform absurdly simple or totally useless tasks.  Mix in a little piano, violin, and ukulele playing and Cook could put on quite a show.  His act became known simply as "One Man Vaudeville."  Legendary New York Times critic Brooks Atkinson once wrote, "Next to Leonardo da Vinci, Joe Cook is the most versatile man known to recorded times."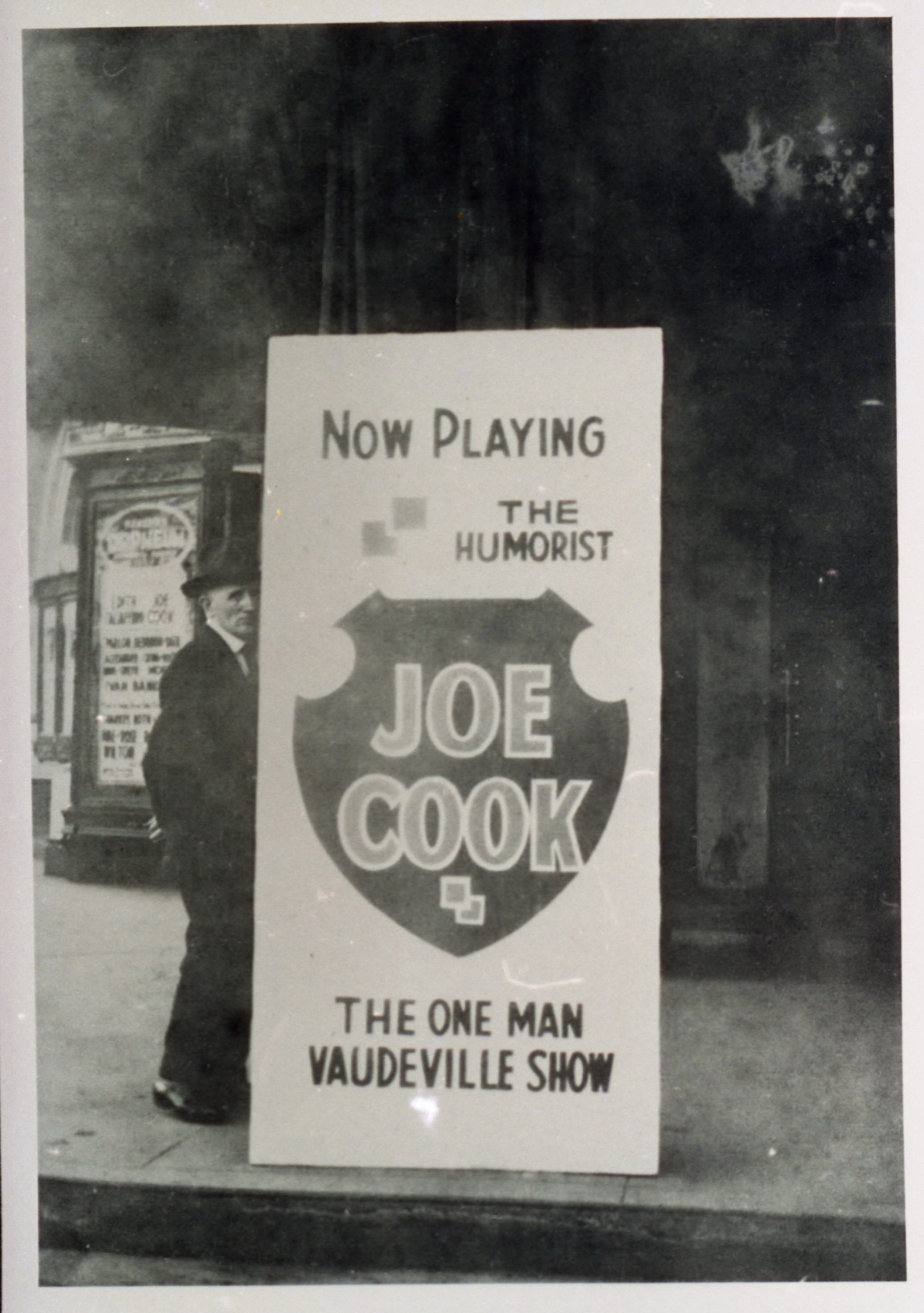 Following a very successful fifteen years in vaudeville, Cook became a musical comedy star on Broadway in the late 1920s and early 1930s, starring in such hits as Rain or Shine, Fine and Dandy, and Hold Your Horses.  In 1930, noted columnist Walter Winchell wrote that "Joe Cook is certainly one of the musical theatre's three geniuses.  I can't at the moment think of the other two."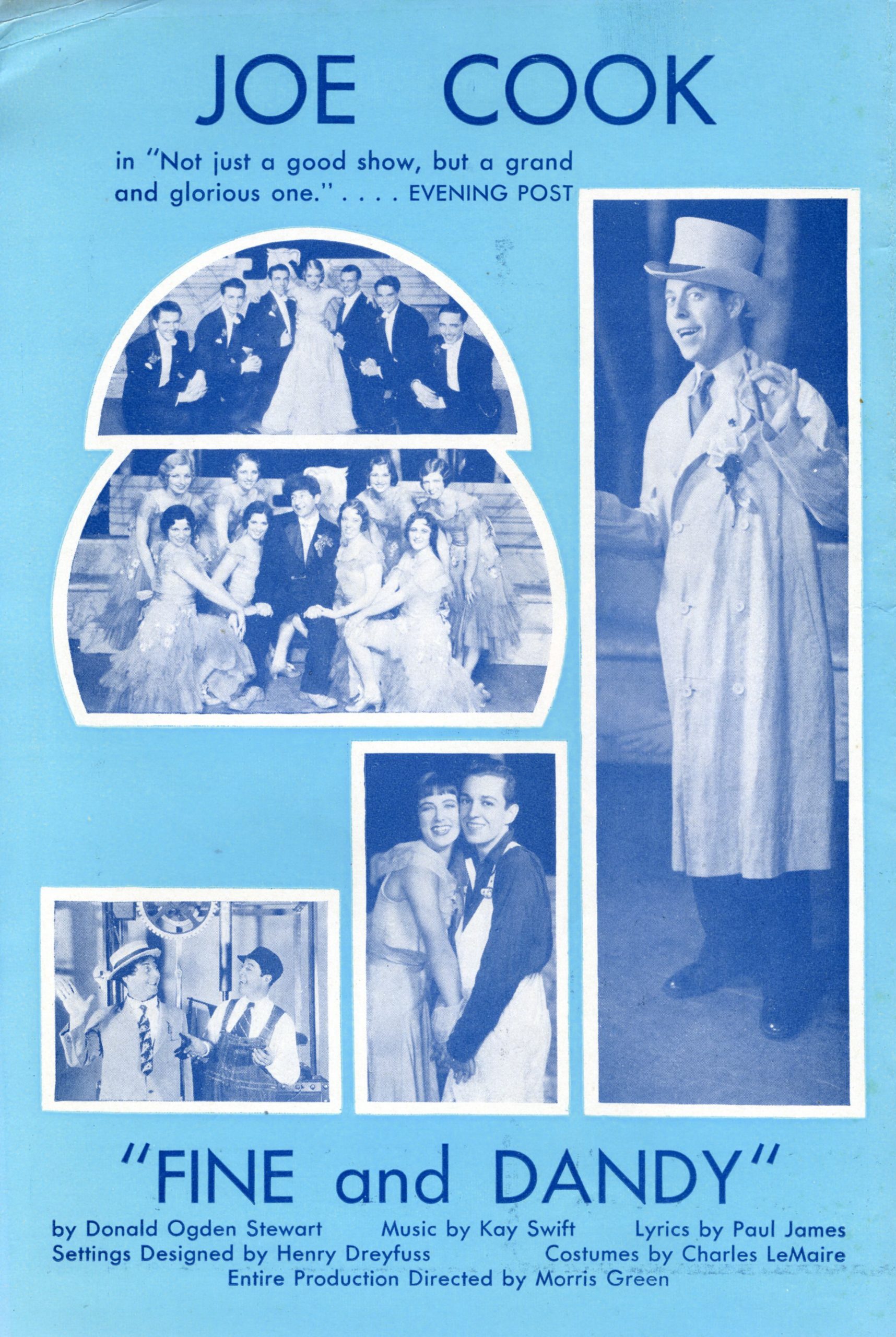 Never a fan of Hollywood, Cook made only two full-length movies, which is a major reason he is not widely remembered today.  In 1930, he starred in the film version of Rain or Shine, reprising the role he had played in the hit Broadway show.  The film was directed by a young Frank Capra and has recently been completely restored by Sony Pictures.  Cook's only other feature movie, Arizona Mahoney, was filmed in 1936 and included a young Larry "Buster" Crabbe, who went on to fame playing the role of Tarzan.  The 1930s also saw Cook's successful transition into the new medium of radio as the host of two variety series and a frequent guest on many others.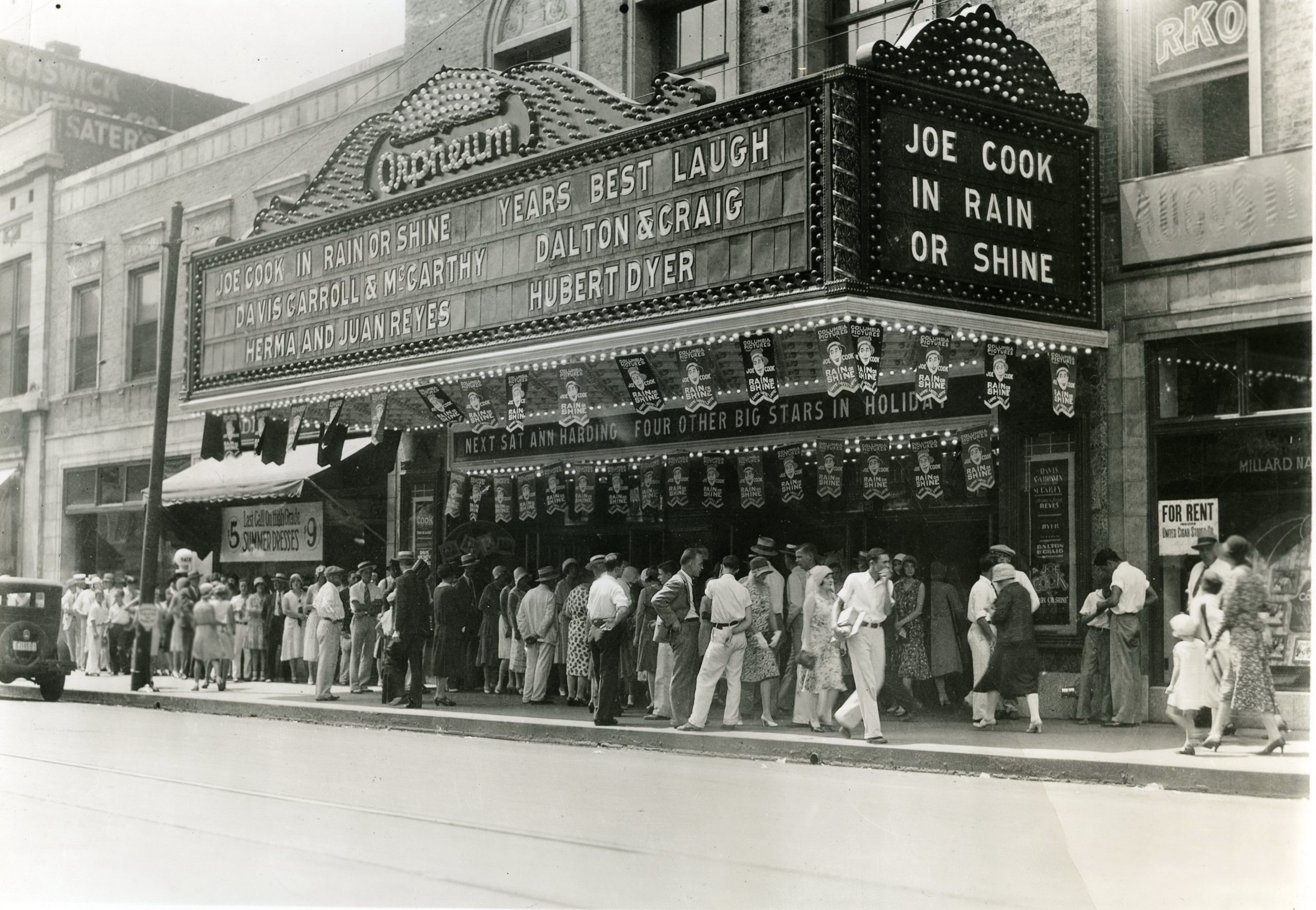 Joe Cook evidently heard about Lake Hopatcong from other performers and spent the summers of 1916 and 1917 at the lake in Northwood.  The July 1, 1916 Lake Hopatcong Breeze reported that he was "burning up the lake with his new speedboat, the 'Jo Jo.'"  Cook and his wife spent that summer entertaining and socializing with the multitude of vaudeville and burlesque performers at the lake.  During the summer of 1917, he spent much time at the lake rehearsing The Red Clock which would be his first foray outside of vaudeville.  Though he sold his boat after the 1917 season, he did not forgot Lake Hopatcong.
Joe Cook returned to Lake Hopatcong with his family in 1924, renting at Pine Tree Point.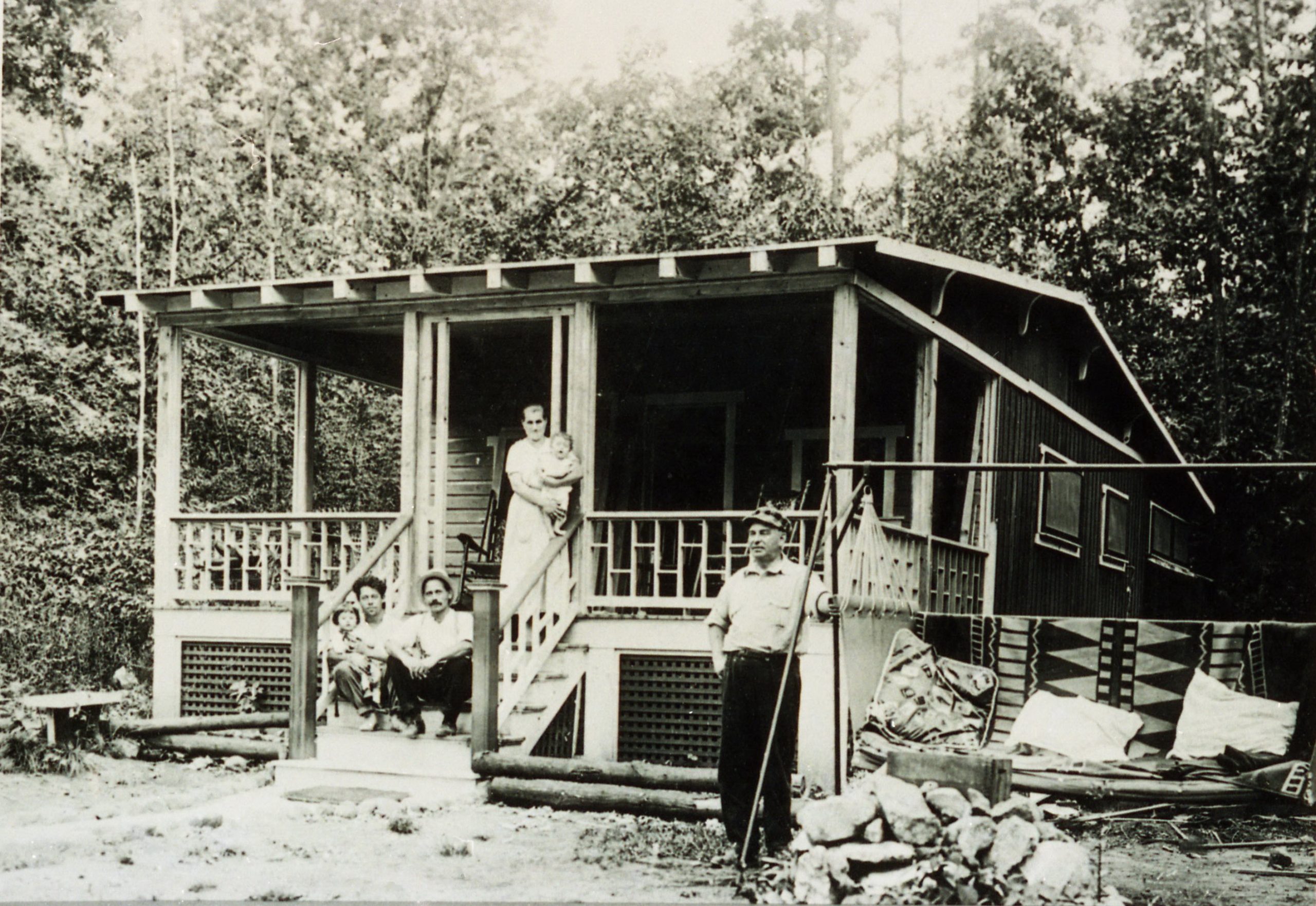 He soon bought land near Cow Tongue Point with the intention of constructing a new summer cottage.  However, in August 1924 the Cook's plans changed as they fell in love with and purchased the "Boulders" cottage in Davis Cove, a large house with beautiful grounds built in 1903.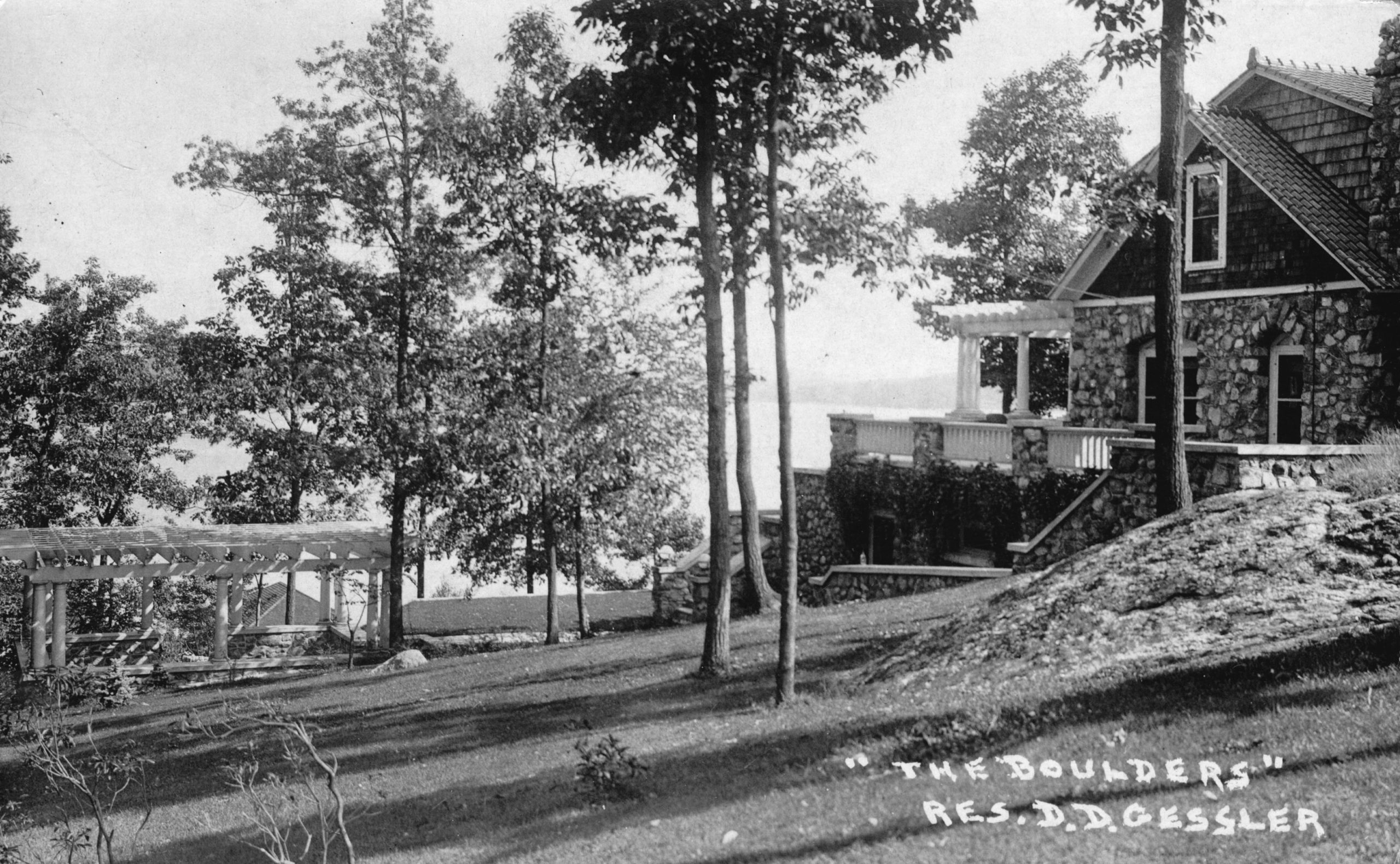 Also in the summer of 1924, Cook purchased a Belle Isle Bear Cat speedboat which he named the "Four Hawaiians" after his most famous vaudeville sketch.  In the act, Cook would give a rambling explanation of why, while he could imitate four Hawaiians, he did not wish to do so as that would put all the performers would could only imitate two Hawaiians out of work.  The good natured skit delighted audiences.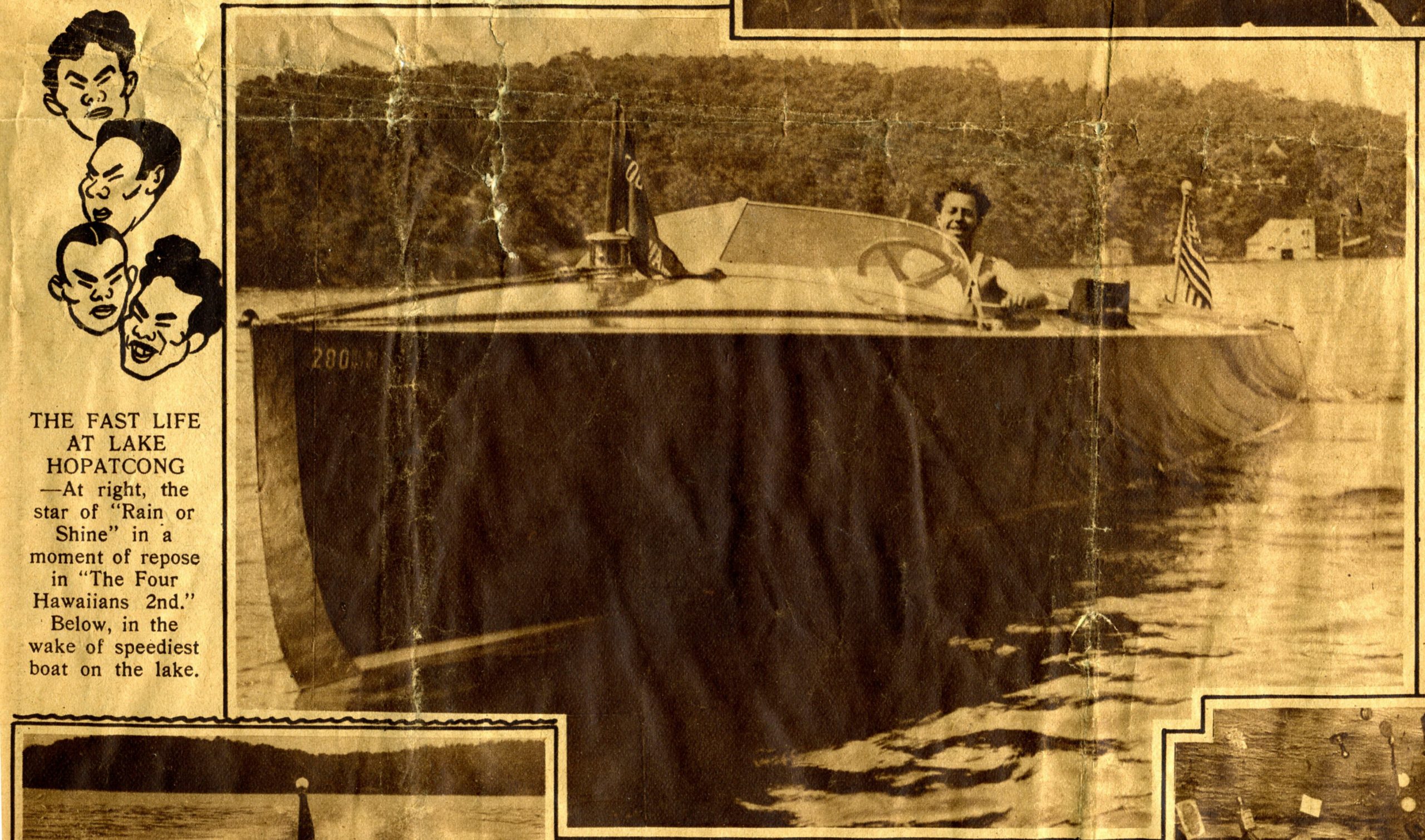 Joe Cook settled in quickly to life at Lake Hopatcong, enjoying boating, fishing, playing golf, and entertaining.  Shortly after Cook purchased his new lake house, the publisher of the Lake Hopatcong Breeze and a small entourage went to see him in Earl Carroll's spectacular revue, Vanities, on Broadway.   The November 29, 1924 Breeze reported that"Viewed from the fourth row orchestra of the Earl Carroll Theatre, Joe Cook gives a very different impression than he does when seen at The Boulders or shooting around the Lake in 'The Four Hawaiians.'  At Lake Hopatcong he's just one of us–Just 'our own' Joe Cook, but on Broadway he's the JOE COOK with his name emblazoned in electric lights so big you could read it from the Battery if the road was straight.  After seeing him in 'The Vanities' last Saturday we can easily understand why he gets as much in a week as we do in a year.  His mere appearance on the stage brought a wonderful hand and from then on the entire house was doubled over in fits of laughter.  We had laughing cramps so bad it was several days before we could get our face straightened out."
Cook immediately went to work remodeling his new lake house in a manner worthy of a comedian, building in several gags from walls that moved to chairs that sank.  The over 20-acre property gave him room to build a nine-hole golf course.  From the first tee on top of a water tower to the memorable ninth hole, which was fashioned so that any ball landing on the green would roll into the cup, the course was, without question, unlike any other ever designed.  Cook renamed the house "Sleepless Hollow," an appropriate moniker considering the frequent parties and festivities held there.  He regularly mentioned Lake Hopatcong in his vaudeville act and on radio, bringing the lake to the attention of millions.  During the years Joe Cook lived at Lake Hopatcong there were scores of articles written about him and his house at the lake.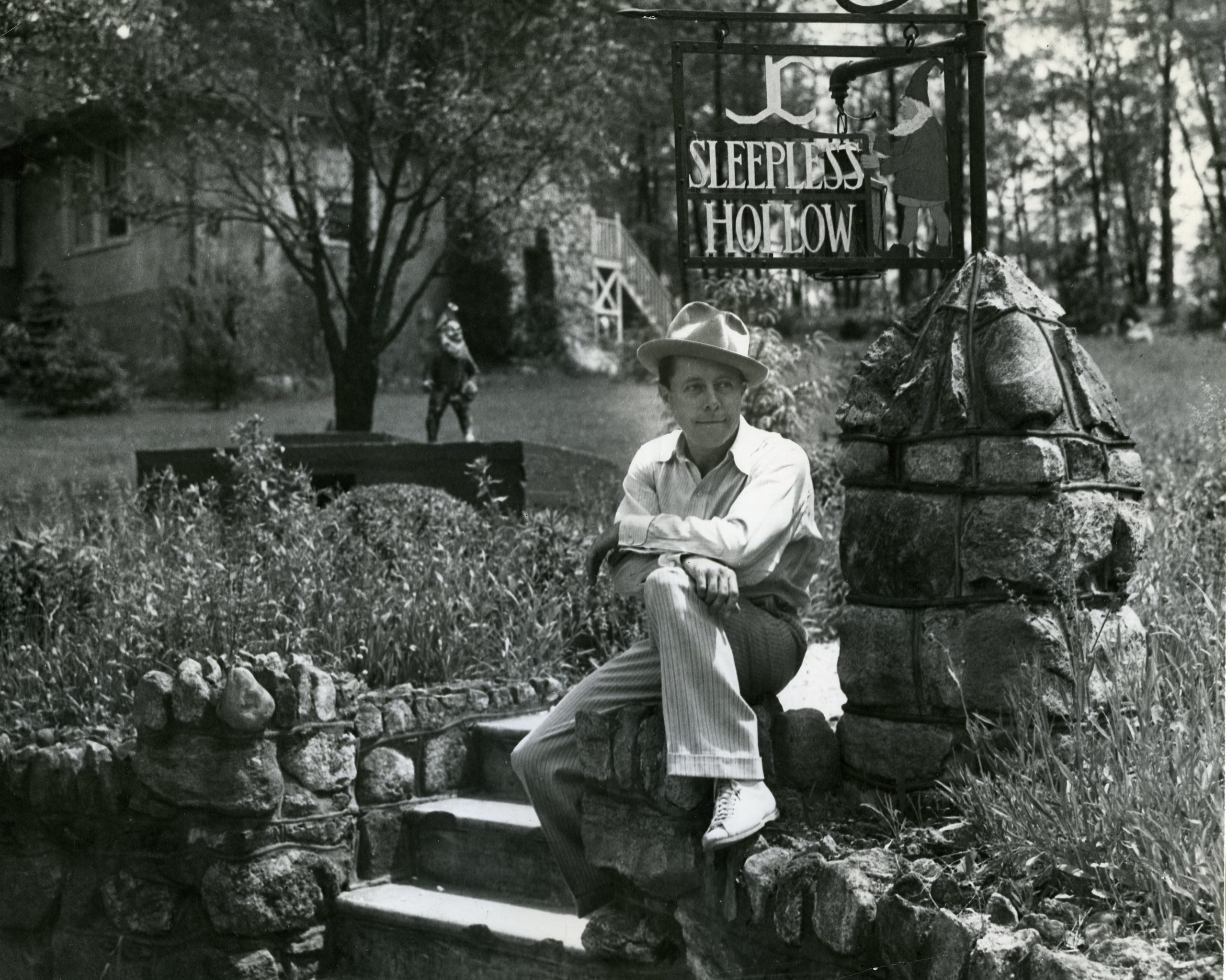 A "who's who" of celebrities and acquaintances visited Joe Cook at the lake over the years, as witnessed by the hundreds of signatures on his piano, which include Babe Ruth, Ginger Rogers, Jack Dempsey, Groucho and Chico Marx, Rube Goldberg, and Frank Capra.  (The piano now resides at the Lake Hopatcong Historical Museum.)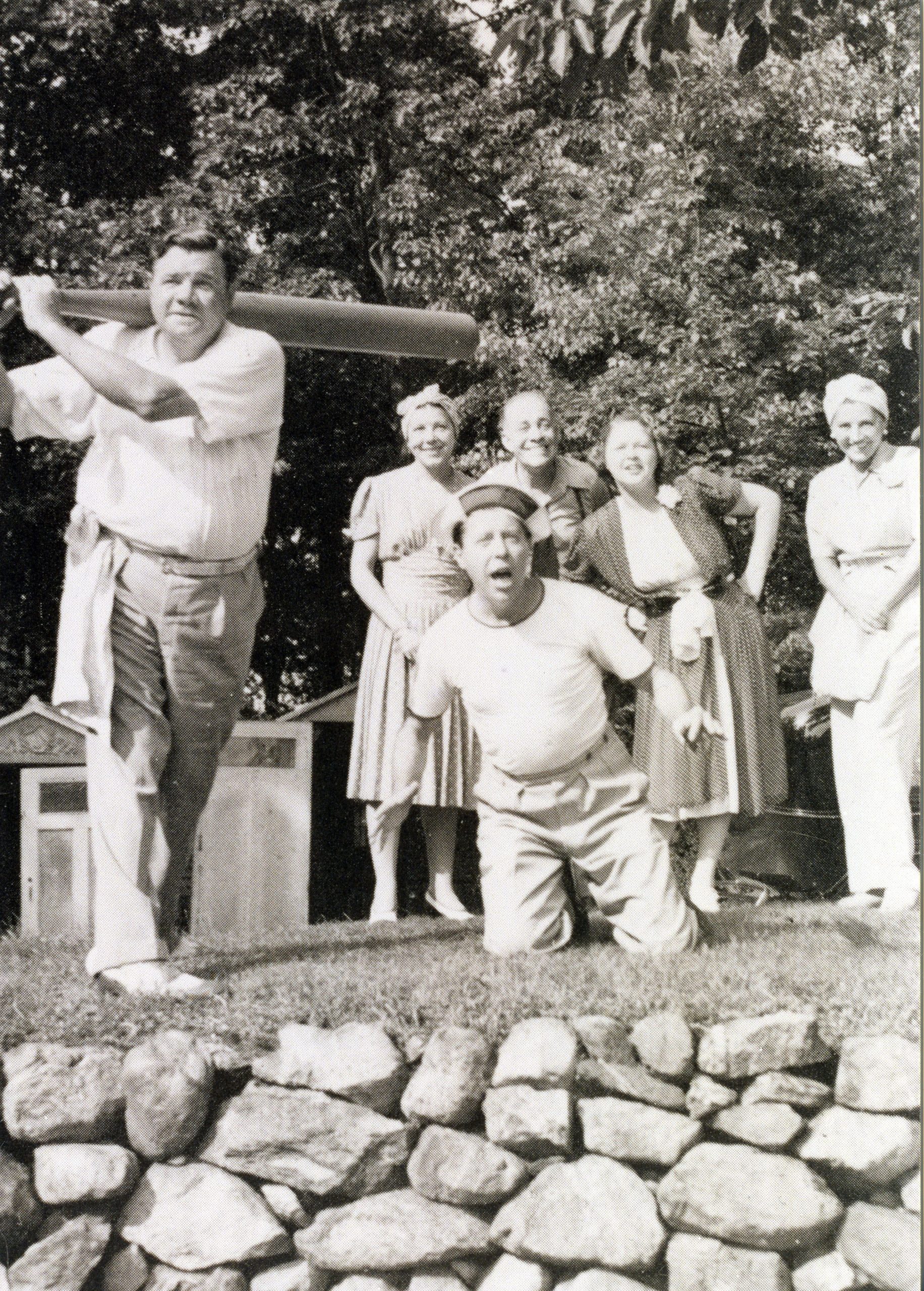 Many entertainers spent summers at Lake Hopatcong, but Joe Cook was unique in making the lake his year-round residence.  While performing in New York he maintained a suite at the Plaza Hotel, but he was never more than a drive away from his beloved lake.  Cook participated in a wealth of local causes and long-time residents of the area still remember him giving Christmas baskets to all children in the Borough of Hopatcong's school.  Whether it was making himself available for a winter carnival, presiding as "king" of Lake Hopatcong's 1926 summer festival, donating a trophy for swim races, or purchasing a new gas range for Hopatcong's Defiance Engine Company #3, the community could always count on Joe Cook.  As reported in the June 30, 1928 edition of the Breeze, he spent "every available minute at the lake.  As soon as he can change his clothes after each performance, he runs from his dressing room to his waiting car and is driven to the lake.  He commutes by car, making the trip back and forth every day rather than lose an unnecessary moment, away from his family, his new speed boat and the many diversions he so thoroughly enjoys here."  That same year Cook treated himself to a new boat – a Dodge Watercar from Barnes Brothers Marine.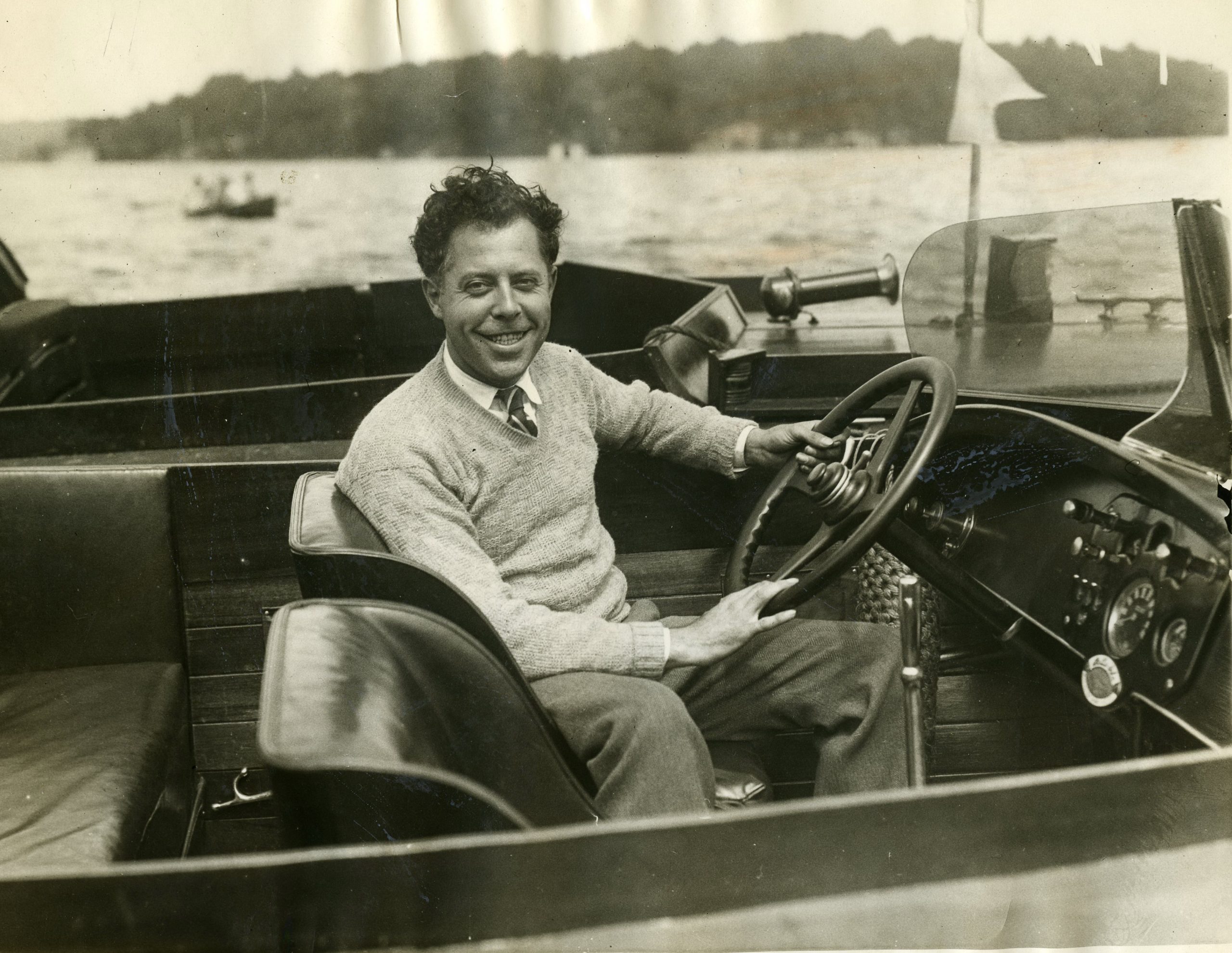 Though they mostly attended boarding schools, Joe Cook's four children spent summers and vacations at the lake.  The Breeze often reported on their latest activities.  Cook's oldest, Josephine, married Edwin Lee of Mount Arlington (a cousin of Lake Hopatcong Historical Museum trustee and former owner of Lee's Park, Bob Lee).  Many articles and photographs show Cook and his children enjoying time together at Lake Hopatcong.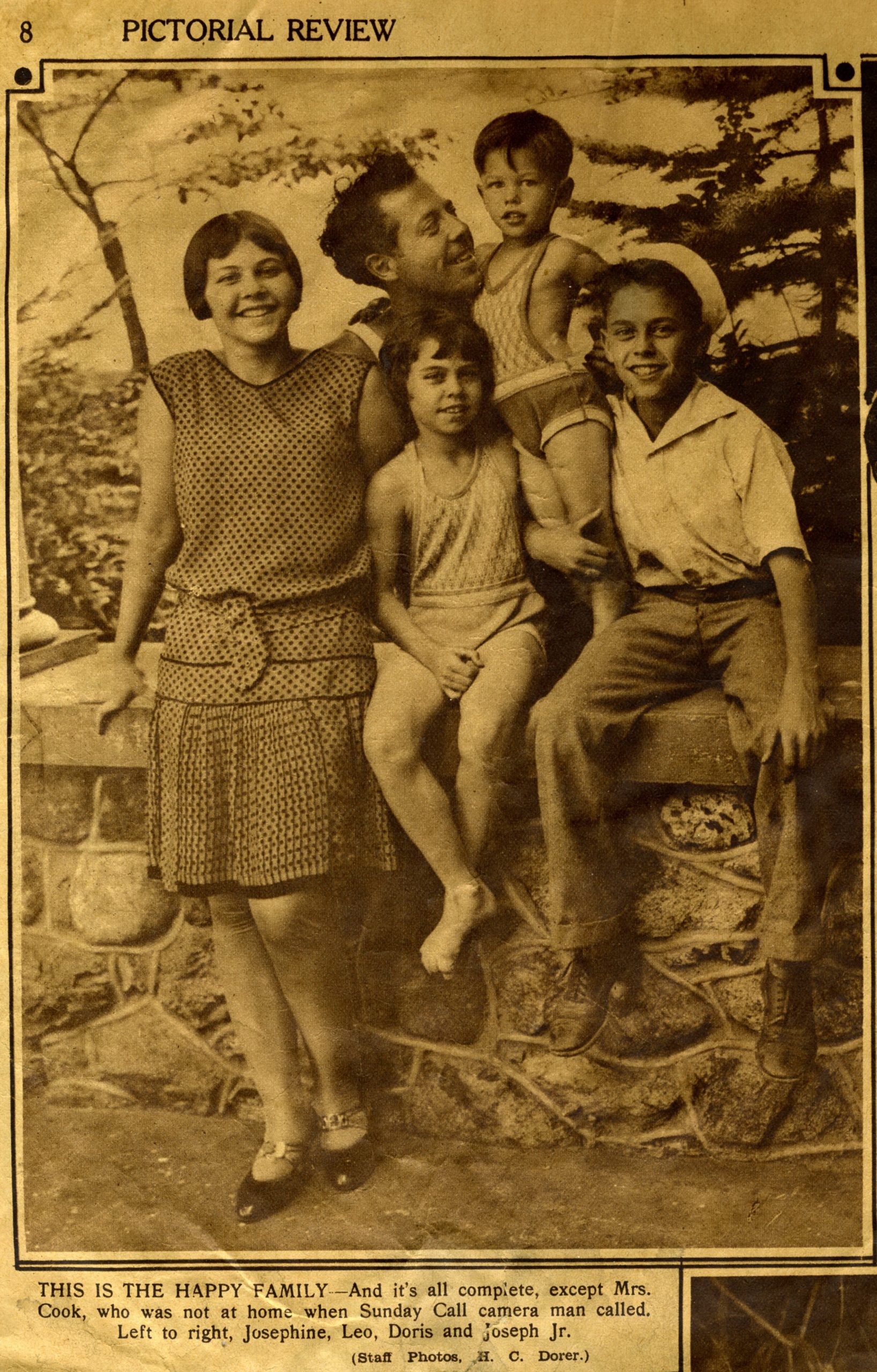 By the summer of 1940, daughters Josephine and Doris and son Joe, Jr., were grown and out of the house.  The July 20, 1940 Breeze reported on the end of an era.  "The sad decision of the Lake's famous comedian-resident to part with his fantastic joke-mansion and beautiful twenty six acre grounds was a natural one formed by a grown-up family…For many years the premier comedian has turned down attractive stage offers that necessitated his leaving home and going on the road."
Unfortunately, Cook's career was cut short as his diagnosis with Parkinson's disease in 1941 forced his retirement from show business.  He sold the lake house the same year and moved to a more modest residence in New York State, where he resided until his death in 1959.  Had Cook stayed healthy until the advent of television, his playful and physical style of comedy might well have made him one of the new medium's biggest stars, as was the case with his contemporary, Milton Berle.
For almost twenty years, Joe Cook's presence added to Lake Hopatcong's allure.  One of America's great stars and personalities of his era, Joe was truly an ambassador for all the lake had to offer.